Gay Batman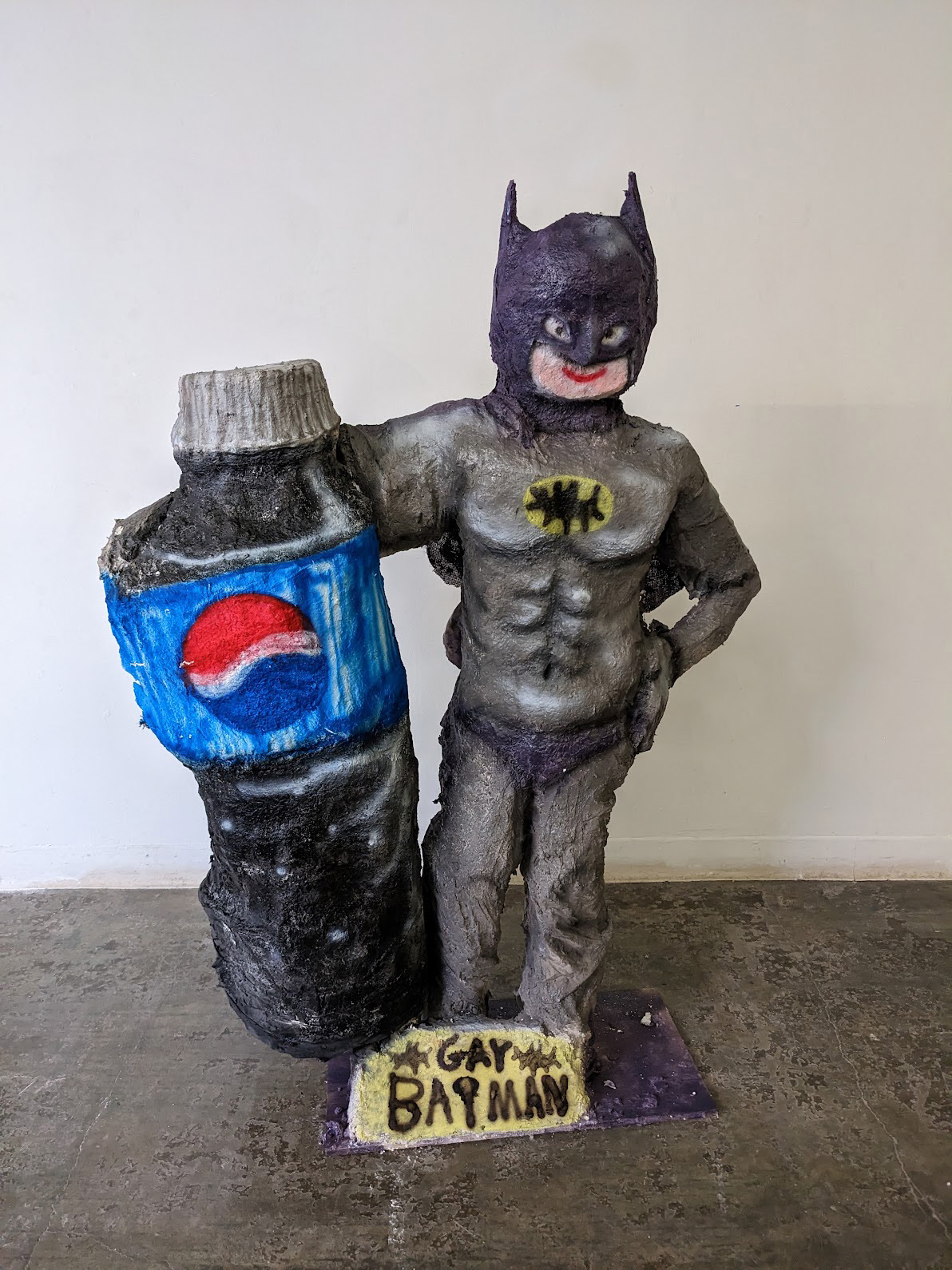 2023
Size 54 x 30 in
Medium plaster and paper mache


This sculpture was inspired by homemade statues from mini golf corses, theme parks and roadside attractions. I am really interested in how sculpture is used in these types of establishments to draw people in and serves a totally different purpose than more traditional fine art sculpture. When I showed this sculpture I gave a speech telling a made up history of a collaboration between PepsiCo and Batman, which concluded with Batman coming out as gay and retiring to live in key west. There is something very fascinating to me about the idea of making art that embraces the hypercapitalist world of brands and advertising, drawing attention to how very ridiculous caring about those kinds of things is.
Playing Child Robot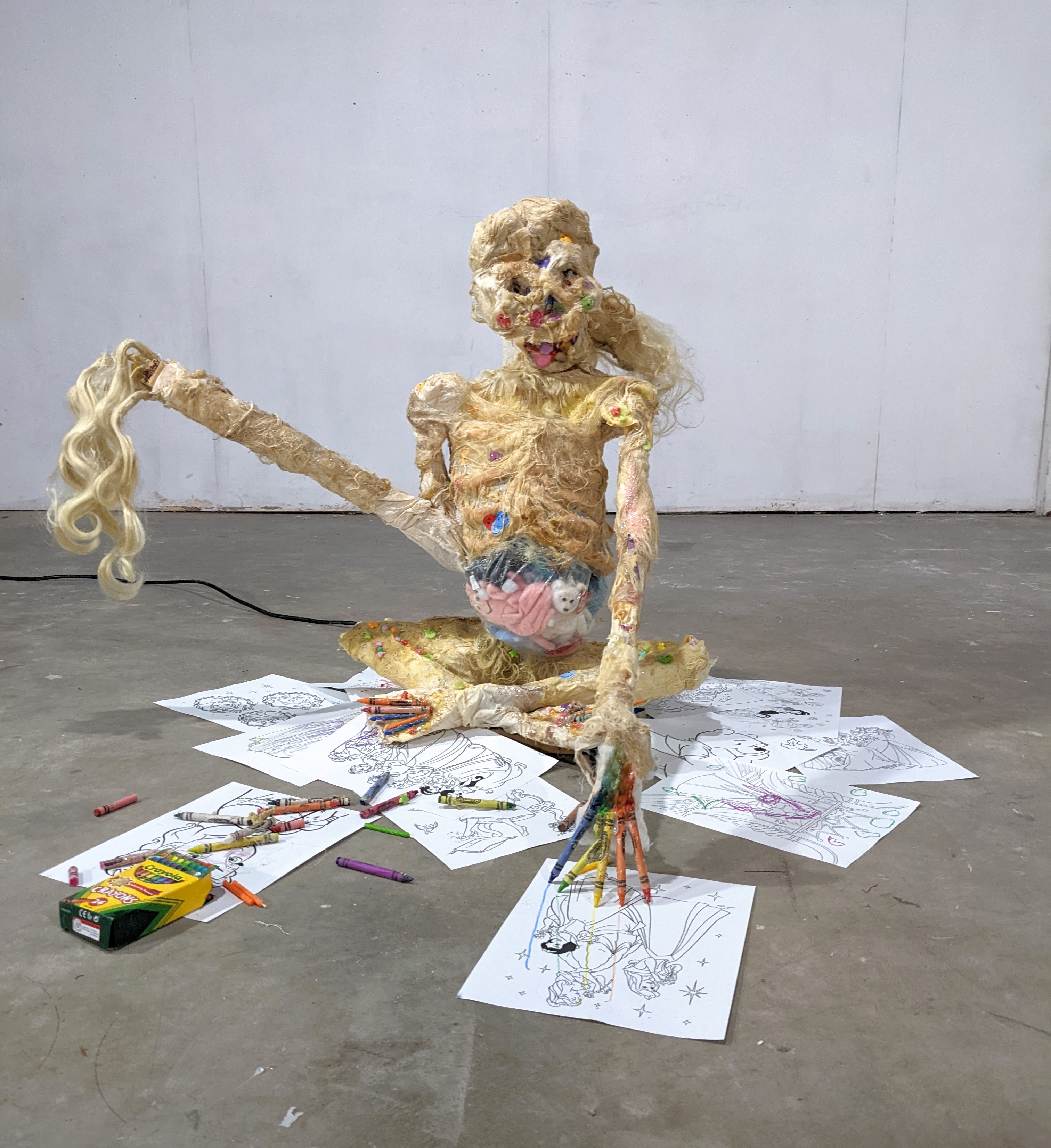 Year 2022
Size
Medium mixed media, including latex electronic components wood and found objects

"Playing Child Robot" is a animatronic sculpture where the head turns from side to side every couple seconds. The body is made of liquid latex layered over fabric and fake hair to simulate the appearance of mummified flesh. The stomach of the figure is transparent, and contains a collection of Beanie Babies in place of organs. The figure is surrounded by coloring pages, glitter and crayons, and appears to be playing. This sculpture is a discussion of femininity and childhood discussing how early gender roles and expectations are forced onto children, and in particular girls. The colorfulness and playfulness in this piece also serves to further this message.
Kiln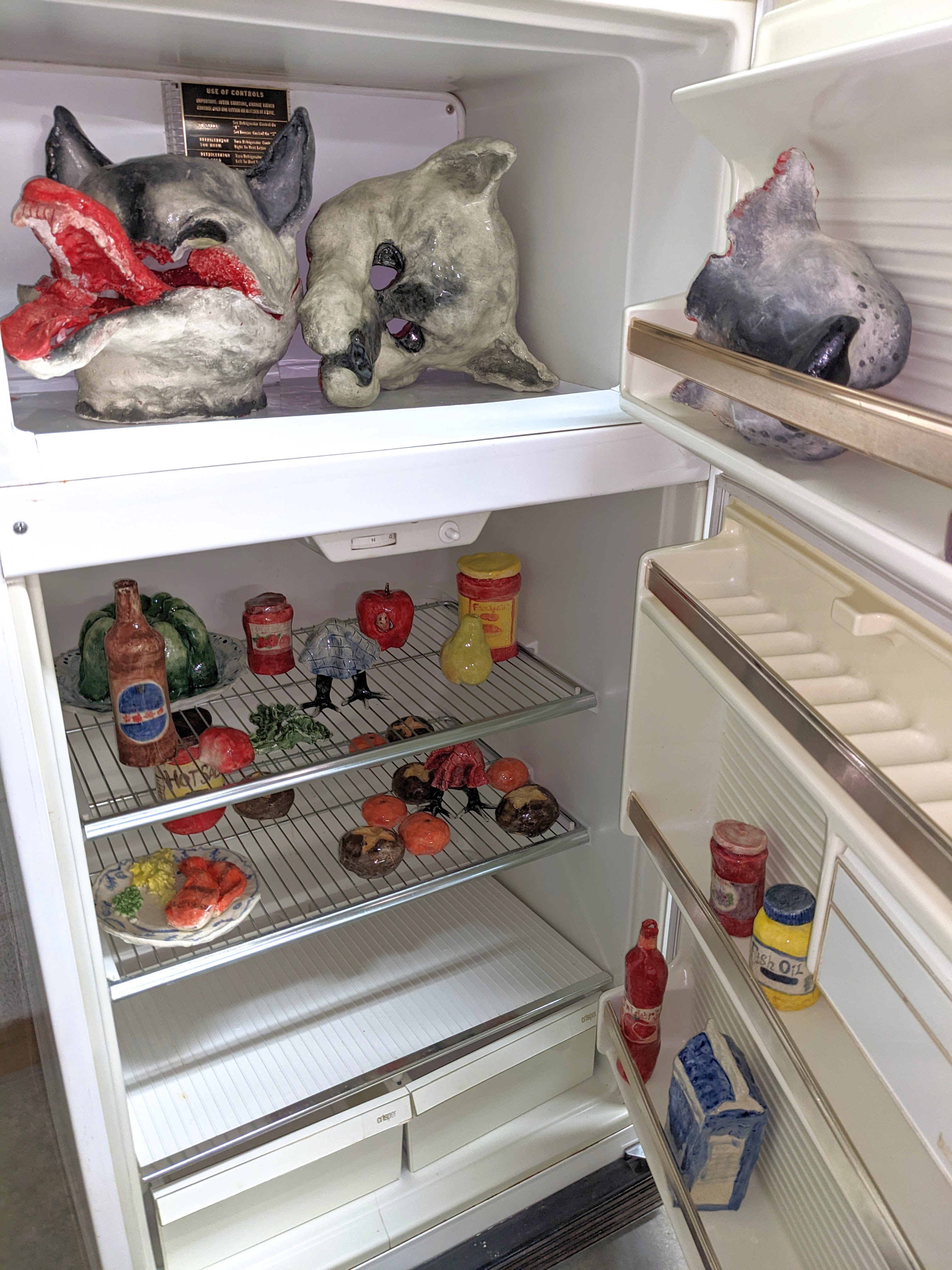 Year 2022
Size 65 x 30 in
Medium ceramics and refrigerator

This piece is a selection of ceramic foods installed inside an old refrigerator. It also includes my piece "Anatomical Model of Roadkill" displayed in the freezer. In this installation I am trying to convey subtle themes of discomfort, and the uncanny valley. The fake food is comically out of place in a real refrigerator, and is in stark contrast to the gory mangled wolf's head.
How to Crochet With Batman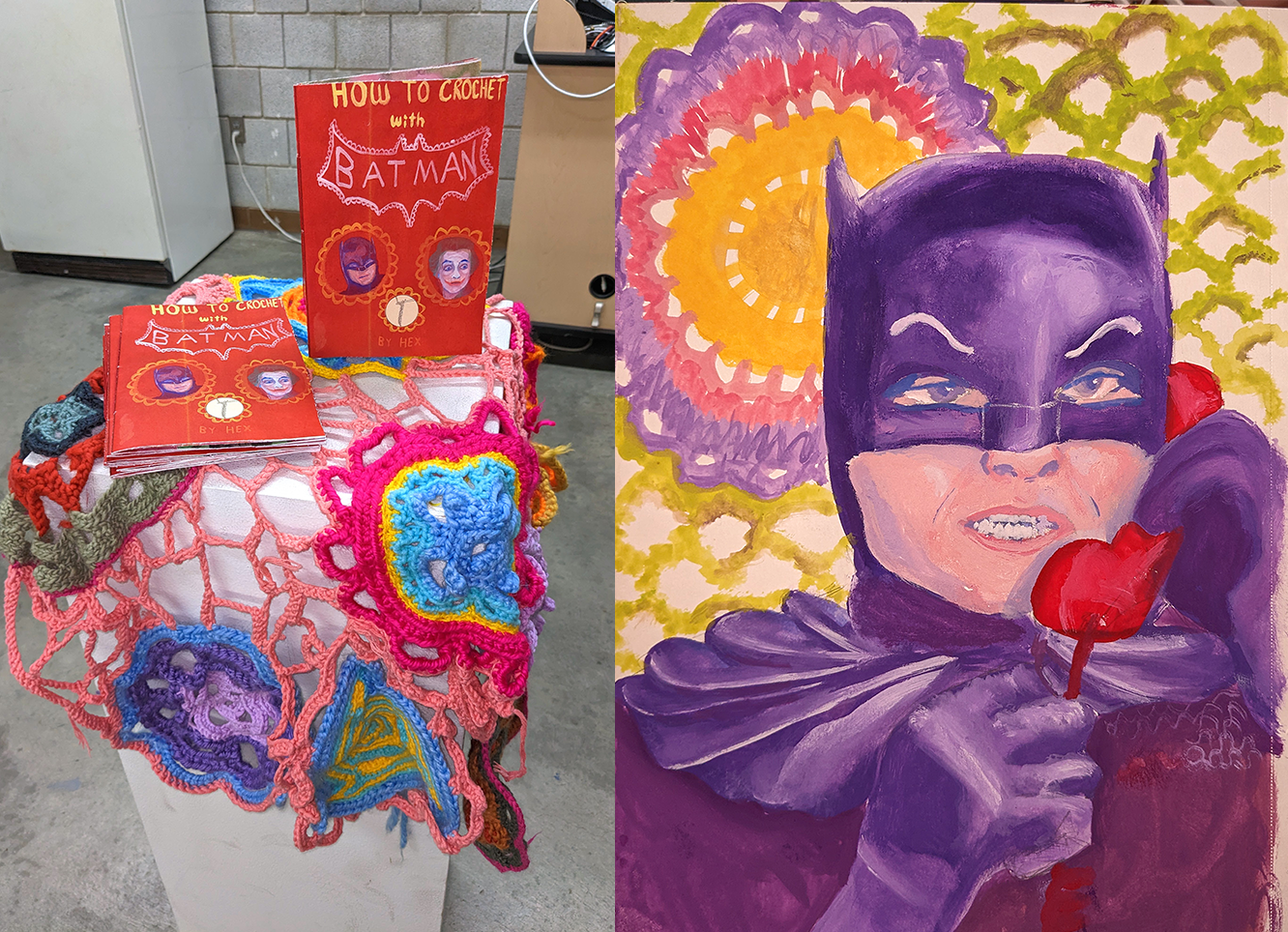 Year 2022
Size 5.5x8.5in 14 pages
Medium gouache on paper, collage

"How to Crochet with Batman" is a book I made using collage and painting, which I then scanned and created editions of. I used illustrations from a crochet instructional book from the 1960s in my paintings and based my paintings of Batman and the Joker from the 1966 show. The plot follows Batman through a surreal dream where the Joker takes his hands and teaches him to crochet, which is a metaphor for sexuality and love.
Anatomical Model of Roadkill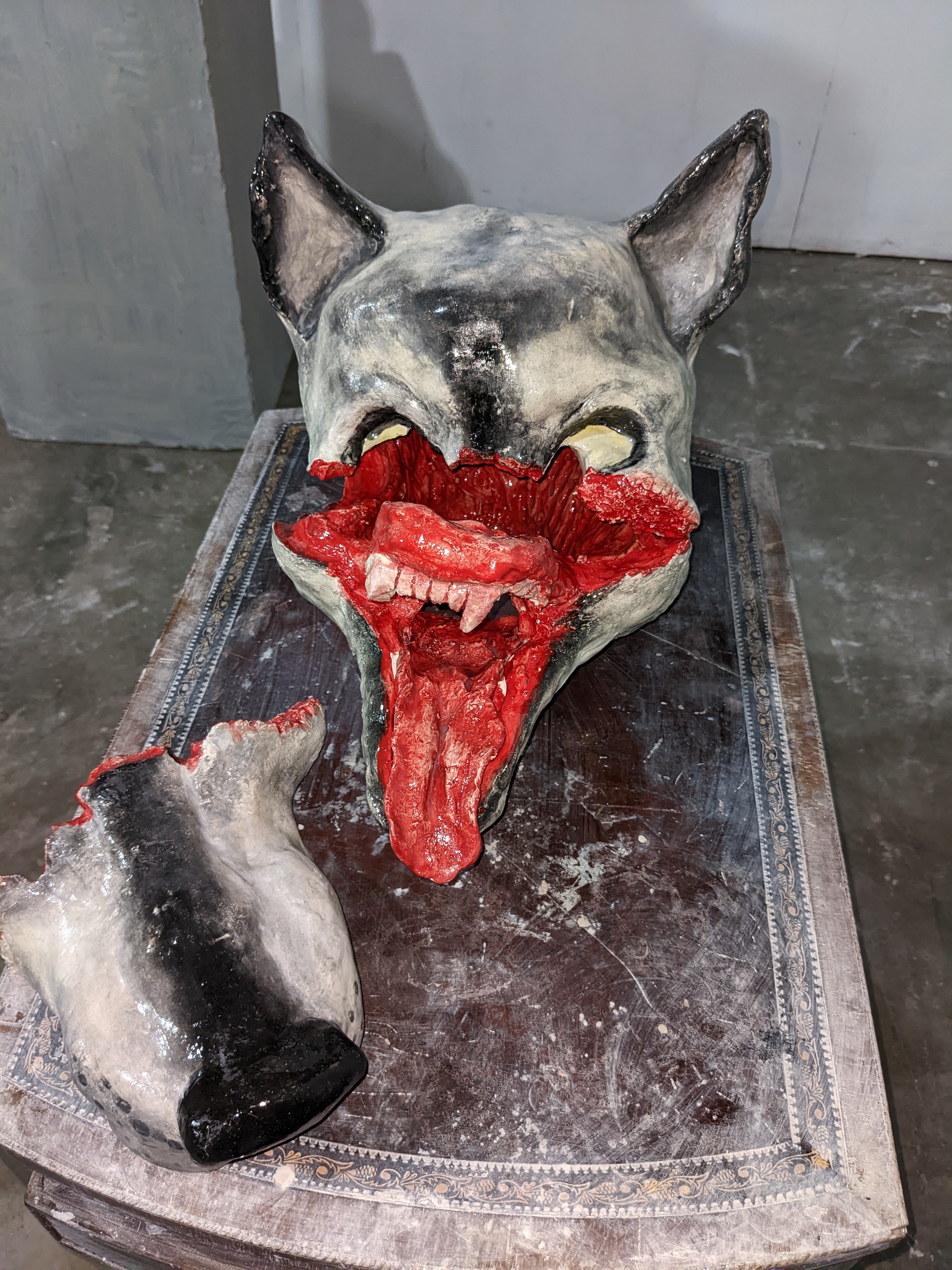 Year 2022
Size 10 x14 in
Medium ceramics

This ceramic sculpture has three separate pieces which can be removed and reassembled into different configurations. As the title suggests, I was inspired by ceramic anatomical models which can be disassembled and reassembled to demonstrate how different organs and systems interact. I was also interested in experimenting with glazing to try to mimic the texture and color of blood and muscle tissue, as well as fur.
Simolean Psycho


Year 2022
Size
Medium video


"Simolean Psycho" started as a piece of prose I wrote parodying the novel American Psycho. American Psycho is a satire of the yuppies of the 1980s, and this video is a satire of both modern day tech-bro yuppies. The video is set in an imagined queer dystopia, where modern day queer and alternative culture is stripped of all revolutionary or anticapitalist rhetoric, and the queer people of the ruling class are just as complacent as any rich yuppie before them.
Gloria


Year 2022
Size
Medium video


This performance involved me wearing a mask and doing dream interpretations for people over Zoom. I made the make out of silicone and faux fur, and I crocheted the shirt I was wearing. I was inspired by psychics and preachers on live television, and wanted to do a performance that felt like something you might stumble upon while surfing through channels.
Catgirl Robot


Year 2022
Size
Medium Robot


Gwen is the most complex robot I have made to date, she moves, talks, her eyes are screens, and she runs a rudimentary chat bot program that can be interacted with by trying replies (I am saying my replies out loud in the video as I type them for clarity). I have long been interested in anime "catgirls", and in my art they represent the objectification of women in the internet age. I designed Gwen to resemble a product, somewhere between a anime figure and a Siri style robot assistant. However despite the fact that Gwen is a catgirl, and therefore sexualized and fetishized she is just a head on a table, and doesn't have a body to objectify.